My story begins before me, as all our stories do.
My courageous parents escaped the country of their birth in 1966 and sought refuge in the United States after multiple military coups ended in the fascist Ba'ath (National Socialist Party) regime taking over Syria in 1963. I was taught from a young age that in America we could live and practice our faith more freely than anywhere else in the world. America gave my parents opportunities Syria never had. They were endlessly grateful for this country and instilled deep patriotism in me from my earliest memories in Wisconsin.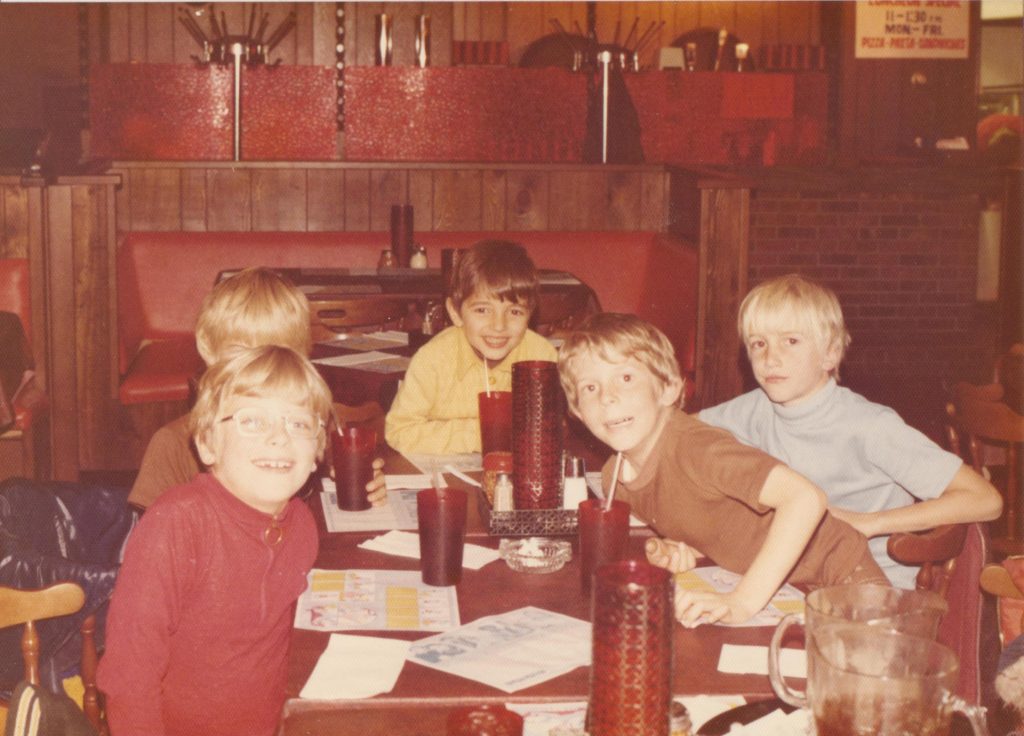 I was born in Ohio, but grew up in Wisconsin near Neenah and Appleton. In school, I was the only kid with a name and background like mine. I stood out. But I found my place and didn't let it hold me back. I enjoyed running, martial arts, and tennis. In High School, I did debate, forensics, and chess club. But my real loves were thinking deeply and writing openly in the school newspaper about what was going on around me. My dad was a lifelong Republican and he took me with him to Washington D.C. national meeting when I was in 7th grade. It was during the Carter administration, a time which resembles the present in many ways – a flailing economy punctuated by gas lines, instability abroad, and social unrest and a weak President. The trip was pivotal for a young boy thinking about the future and his place in the world. I was beginning to own conservative principles as my own.
In High School, I began writing a column called "On The Right Track," where I fleshed out my conservative perspective on the issues facing our community and the country. This would be my first foray into adding my voice to national conversations. It was also the first time I began to actively use my voice to disrupt the status quo in what was my small world at the time and speak truth into a void. I couldn't have foreseen then how I would have to use my voice in the future.
College and Medical School
My father was a doctor and that career path immediately appealed to me. I had considered law, but I wanted to help people in a positive environment. Medicine seemed a much straighter and less antagonistic path to that goal. Ironically, most of my life's work would put me squarely in the path of antagonism and deep battles over politics and religion. And I quickly found that I have a penchant for going against the grain.
I decided to go an accelerated route to medical school, and was first accepted into a direct admit medical school program through the University of Wisconsin-Milwaukee and the Medical College of Wisconsin called Target MD right out of High School. I then brought together my dreams to serve in the military with my medical ambitions by accepting a full medical school scholarship with the U.S. Navy Health Professions Scholarship Program. I would commit to four years of military service post medical school graduation, and in turn, they would pay for my education. I applied and was accepted to all three branches of the military and chose to serve in the Navy.
During my undergraduate studies at the University of Wisconsin Milwaukee, in addition to studying hard, I quickly found myself taking on the Muslim Students' Association due to their antisemitism and extremism. I also helped negotiate along with other conservative students for equal funding to establish the first conservative newspaper at the university. Even before it was vogue, we knew that ideological diversity matters and we were on the verge of losing it way back then. We won, and launched a paper that gave conservative viewpoints a voice on campus.
After undergrad, I started medical school at the Medical College of Wisconsin on a full U.S. Navy Scholarship. I knew early on that I wanted to go into internal medicine so I could treat the whole patient, do primary care, and build long term relationships with those families I would care for. I've never regretted that decision. My summers belonged to the military, where I participated in basic training and active duty training and research. I was first commissioned as an Ensign in the U.S. Navy in August 1988, and I graduated in May 1992 with a Doctor of Medicine with Honors in Research and President of the Alpha Omega Alpha Honor Society.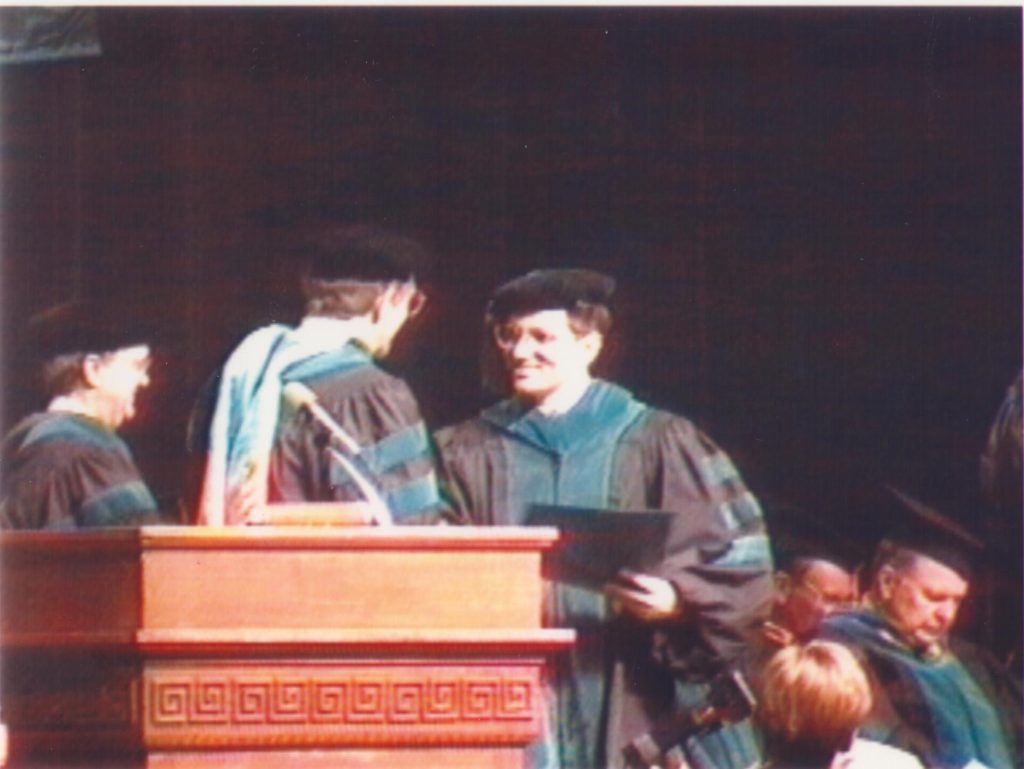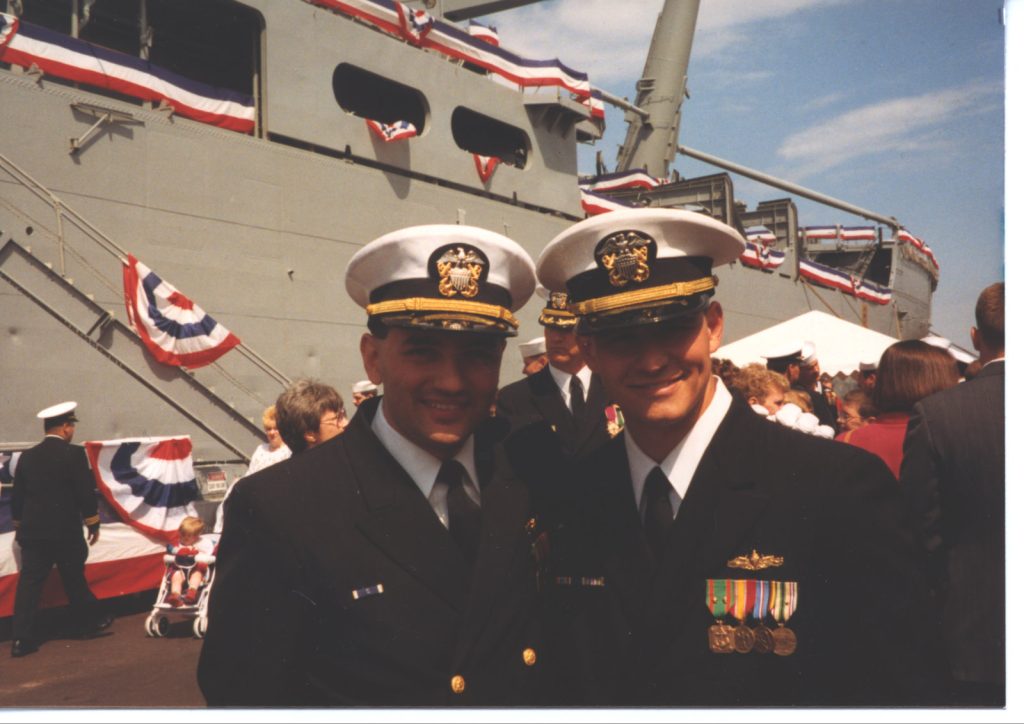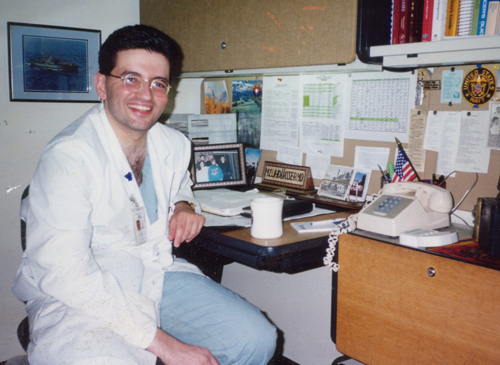 After graduation from medical school, I was selected to do my internship in Internal Medicine at the National Naval Medical Center in Bethesda, Maryland (now Walter Reed) from June 1992 to June 1993.
After that, I jumped at the chance to see real action and operational duty on a military ship. I didn't want to be confined to an office or clinic somewhere on land! I was thrilled to be selected as General Medical Officer and Medical Department Head aboard the USS El Paso (LKA 117), where I served from July 1993 to May 1994. I joined the ship during its return from deployment to Somalia where it was a part of Operation Restore Hope. During the tour, I received my Surface Warfare pin, a unique achievement for a medical officer while aboard ship. I made long lasting relationships with shipmates as I did in all my duty stations, I'm in contact with to this day.
I returned to my internal medicine residency in June 1994, where I was ultimately selected among my peers to be Chief of Residents at Bethesda from 1996 to 1997. It was an honor to serve and learn at one of the nation's most prestigious military medical centers.
Next came my second operational tour and a truly unique opportunity, and my first look into the inner workings of Congress. I was selected after vetting by Navy leadership to serve as a staff internist to the Office of the Attending Physician of the United States Congress – basically, one of three doctors for all of Congress, and the Supreme Court on the Hill. I was honored to receive the Meritorious Service Medal at the end of that tour for my time in this role. We also had the role of 9-1-1 responders for any emergencies in the vicinity of the Hill.
On a personal note, Gada and I had become engaged in 1997. We married on Valentine's Day 1998. Marrying Gada was, and still is, the best decision I ever made and the greatest blessing I ever had.
On July 24, 1998, while I was working on the Hill, myself and four of my corpsmen were emergently called to the scene of a terror attack on the U.S. Capitol — not more than 20 yards from our clinic. Russell Weston Jr. shot his way into the U.S. Capitol through magnetometers and into Majority Leader Tom Delay's office. Our team provided emergency medical services to the victims. This was my first brush with terrorism. Just over three years later, the Twin Towers would fall and terrorism would become a household fear.
After 11 years of service, I was honorably discharged from the U.S. Navy in May 1999.
Making Arizona Home and Caring for Patients
With military service behind me, I turned the page to my next chapter. In June 1999, Gada and I settled our new home in Arizona.
Choosing Arizona as our home made sense for personal reasons. My parents had moved to Arizona from Wisconsin several years prior and my father started practicing medicine here and my mother worked as a pharmacist. Gada and I road-tripped across the country, arrived in this beautiful desert, and it's been our home ever since. I joined my father's practice as his partner was retiring, and Gada enrolled in the Doctor of Pharmacy program at Midwestern University in Glendale, Arizona. She received her Doctor of Pharmacy in 2002.
I eventually took over the practice and the Jasser Center for Comprehensive Care in Phoenix was later born. Our business has flourished and I'm still caring for patients there, over 24 years later. Recently, when our state shutdown during COVID-19 in 2020, I stood up, called out the unnecessary perpetual shutdowns of businesses and schools. If I could keep my practice open despite pressure from the medical establishment then why couldn't other small and large business leaders make the same decision? I'm proud that our practice continued to provide urgent care to our communities during the entire period of the pandemic. Other small businesses should have had the same opportunities. 
Bioethics has always been a strong interest of mine, blending medicine with my lifelong fascination with morality, ethics and philosophy. I'm a trained bioethicist and have provided ongoing bioethics consultation and education for a major healthcare institution in the Valley since 2003. I've been grateful to be recognized several times as a "Top Doc" in Internal Medicine by Phoenix Magazine over the past 24 years, and I've served our community on the Maricopa County Board of Health from 2004 to 2012 as well as the Board of Directors of the Area Agency on Aging from 2007 to 2012.
It's been a delight to work with some fantastic organizations and associations that are making a tangible difference in our community and families. I've been a Board Member for NotMyKid since 2014, and a medical director for a local hospice. I'm the former President of the Arizona Medical Association serving from 2006-2007 and I continue to serve on their Board of Directors. In that role, I have long advocated for the preservation of the choice of private practice in medicine as one of five delegates to the American Medical Association. I became the founder and now a past-chair of the Private Practice Physicians' Section at the AMA House of Delegates. In this role, I worked hard to bring often ignored voices to the forefront of the House of Medicine and challenge prevailing establishment opinions.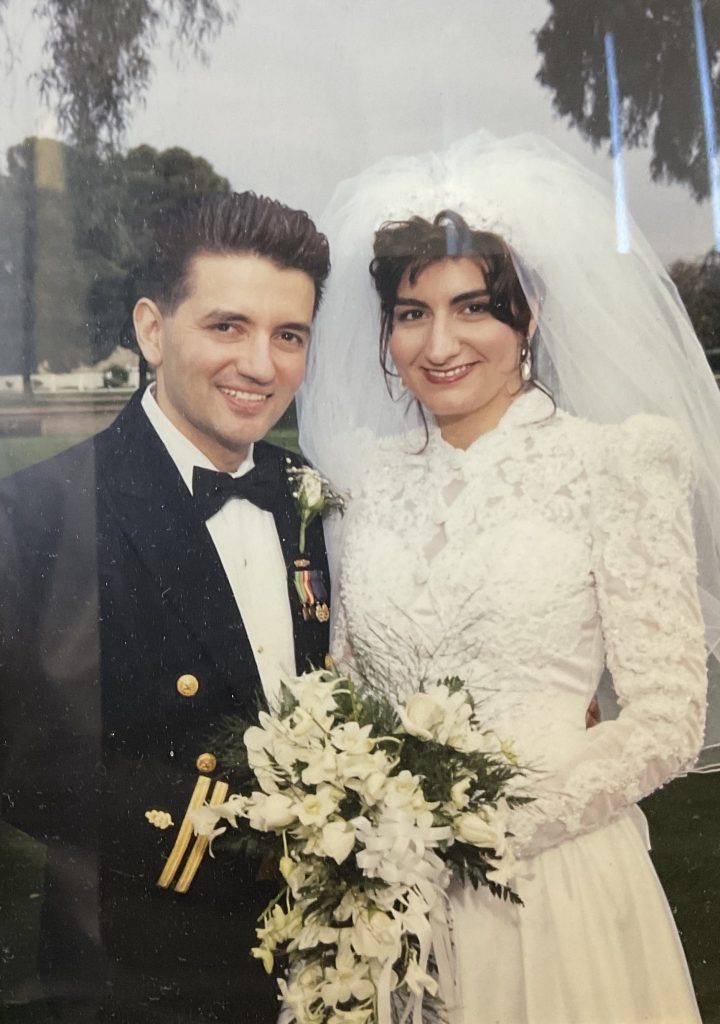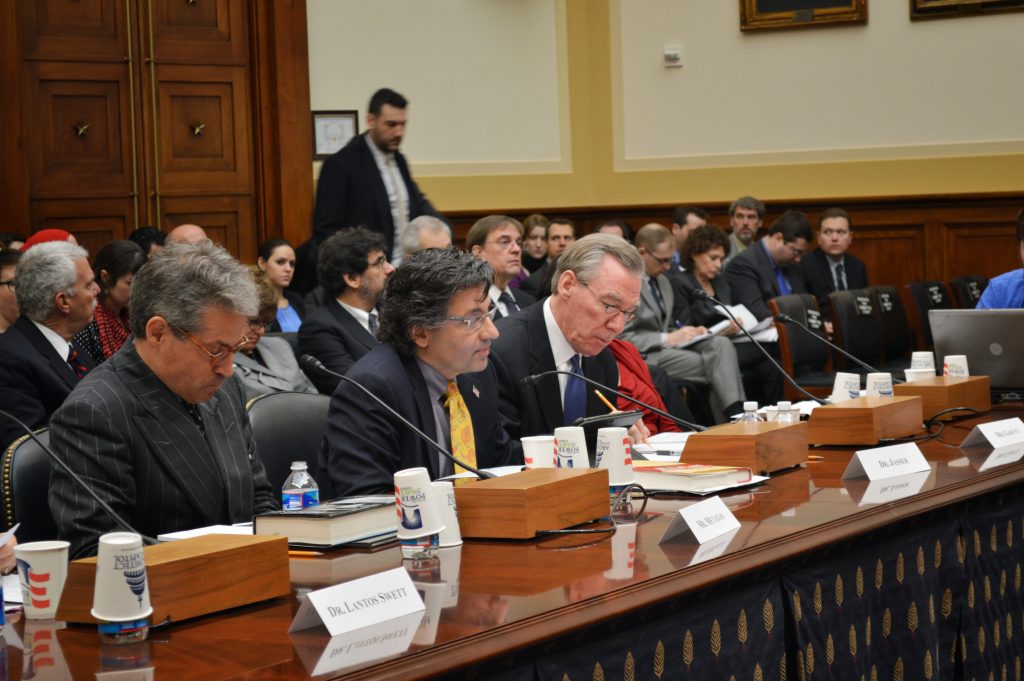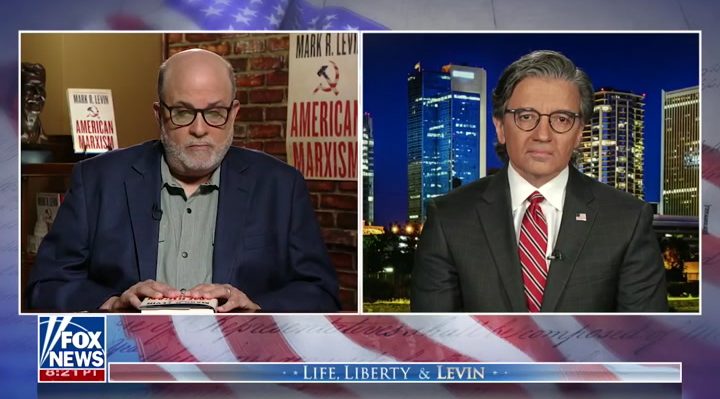 I love my country, and I love my faith. During my life, both have been under attack from within. I came onto the national and international stage unexpectedly after 9/11 when I stood up as the lone voice calling for reform and eradication of radical islamist ideology to come from within Islam.
But I had recognized and started confronting the poisonous theocratic ideology growing within Islam back in my college days. So after 9/11, speaking up came naturally.
I led the founding of the American Islamic Forum for Democracy (in 2003), a counterideology, counterterrorism, national security organization based here in Phoenix, Arizona. We received national attention when we held the first and only Muslim rally in the United States against terrorism, shortly after 9/11. This rally – and my response piece to an Arizona Republic headline – catapulted me into the national and international conversation on radical Islam. I never looked back.
I was presented with the FBI Director's Community Leadership Award by the Phoenix Office of the FBI in 2007 for my work with the FBI on counterterrorism in our area. In the years since, I've provided testimony to the U.S. Congress on numerous occasions, and was a Republican Senate appointee to serve on the United States Commission on International Religious Freedom (USCIRF). In that role, we visited numerous nations across the planet, some many times, as we provided independent analysis as a check on the State Department to the U.S. Congress on the conditions for religious freedom in nations abroad. 
A part of my legacy I'm particularly proud of is co-founding the Muslim Reform Movement in 2015, a coalition of pro-liberty anti-Islamist Muslim reform-minded organizations based in the United States, Canada and Europe. I've written books, and been published in journals and as a columnist in the Wall Street Journal, National Review, Dallas Morning News, and the Arizona Republic to name a few. I've also been a frequent guest on multiple national news outlets including Fox News Channel, CNN, MSNBC, SkyNews, CBS, Al Jazeera, and BBC, speaking out against radical Islamist ideology and theocracy, and defending America.
But my greatest joy in life has and will always be my wife Gada of over 25 years, and my three intelligent and beautiful children, Zachariah (21), Zaina (19), and Zaid (15) all born and raised in Arizona. Just as my story didn't begin with me, it won't end with me either. They will carry the torch. I hope to leave my children and yours a country that more closely resembles the beacon of hope and opportunity where my parents sought refuge almost 60 years ago.